Welcome to Terri Sajdera's
Camp Sunshine
The Pet Alternative School
Terri Sajdera, RVT, CPDT
315 Oak Street
Otis, IN 46391
219-309-0667
risnshin4chaps@aol.com
Welcome to Camp Sunshine.
Camp Sunshine was created as an addition to the current training methods that are available to the Pet Loving public. I began training dogs and horses in 1976 & 1974 respectively. In the Lake County 4-H program. I continued to train into the 1980's in conformation competition in the AKC ring. I trained under several area trainers in obedience as well as conformation with my home raised Boxers.
in 1984 I embarked on my path to become a Registered Veterinary Technician at Purdue University in West Lafayette, IN. Although behavior was not formerly a class at the time, I did attend CE that focused on it. (YEAH) I graduated in 1985 with class distinction honors.
In the 1990's I was fortunate enough to work with a wonderful employer who embraced that advances of veterinary medicine and sent me to the vet portion of CE to gain my base of knowledge in behavior. It is history from there. I started puppy class at Vale Park Animal Hospital in 1997 and have not looked back yet. I truly enjoy seeing owners and dogs having a great relationship. After all isn't that why we invited them into our home for? In 1999 I attended the dogs course to certify with Dr Leuscher that I can be used as a referral for behavior modification training after a consult.
In 2004 I sat for the exam by the Association of Pet Dog Trainers to be certified in positive reinforcement training. I passed and earned my CPDT title. I hope to make a difference in the way we communicate with our animals so that maybe it will spill over into the way we communicate with each other.
Approved AKC CGC evaluator.
My desire is to see many more dogs, cats horses, whatever find warm and loving home in which to reside til the end of their days. It is sad that we will outlast our faithful companions, but hopefully we can learn to treat them with respect which hopefully will in turn help us to treat each other with respect and love.
As will Rogers so eloquently put it: If dogs don't go to heaven, then when I die, I want to go where they are.
webmaster:
Shelly Gordon
campsunhineweb@yahoo.com
Welcome to Camp Sunshine.

As far back as I have memories, animals have always been my passion.  My first experience training horses and dogs was in the 70's.  I participated in the 4H program with horses and dogs.  I showed and trained with several different obedience instructors during that time and also competed in conformation.  I put 11 points on my boxer (1 major).  It is during this time that I became very interested in how animals learn and how one species differs in their actions and reactions.  I knew then that I would always want animals to be a part of my life.

In the 80's I headed to Purdue University and graduated with honors from the vet technology program (1985).  Even today, I find this career to be as rewarding as the day I entered it.  In 1993 I became interested in Veterinary Behavior and was fortunate when my employer sent me to all the lectures my brain could handle on the subject.

In 1997 I began working at Vale Park Animal Hospital where I began my puppy classes for 8-16 week old puppies.  I have started several of my own puppies thru this class in order to be able to present with confidence the techniques I learn at seminars, conventions...reading. My current Aussie, Fi (3 years) is my latest graduate from my puppy classes, and earned his canine good citizen dog at 10 months old.  (Stargate's Semper Fi CGC).  He currently is the meet and greet dog for the puppies in the class.  He has great body language and is very patient with the little ones.

I also have a boxer that shares time between my farm and my mother's home.  And horses that I have clicker/positive  trained to do some tricks and many day to day activities.

PHILOSOPHY

It is simple really.  teach people to teach their dogs.

Example:

how did you learn to do basic math?  Did someone sit you down with a pencil and paper with a bunch of problems on it.  Then wait for you to do something wrong, then correct you?  Hum, well, i hope not.  How long would do you think it would of taken you to learn to correctly do math using that method?  How would you feel about doing math?  (not tht math is everyone's favorite subject)  Generally speaking, Teachers showed you how to do it over and over again and rewarded you and encouraged you for doing it right.  I believe that everyone has had one great teacher in their life.  How did that teacher make learning so fun? 

I think that covers my core philosophy, learning can be fun.  Fun for you and your dog.  It is easier on you and your dog and it creates a dog that is excited about working for you.

A great example is a story a about Fi's 1/2 brother that is training with the Indiana FEMA team.  When his owner sets out her training cloths (they wear uniforms), Tate starts wiggling his butt and squeeling with excitement. He simply loves his job, his trainer has made it THAT rewarding for him.

All dogs can have that kind of excitement for doing the right thing.  We just have to learn to make it that fun and rewarding.

There are many ways to accomplish this great attitude for doing the right thing. All of them involve rewarding the good behavior or the behavior that you want.  One great method is clicker training, but is not required.  Also the use of equipment such as gentile leaders help dogs to make the right choice so that you can reward the good choices.  Maybe all you want is a good recall, the foundation is the same as it was for Tate.  Make that one thing you really want extremely rewarding.  Ultimately, what is rewarded will be repeated.  Increasing repeated behavior is what training is all about.

My goal is to help pet owners bring these techniques into their home and daily interactions with their pets.

Currently I am offering private lessons.  In Fall 2006 I will begin offering small, intimate classes indoors at my farm in Otis, Indiana.  Otis is conveniently located east of Valparaiso and south of Michigan City.  I will be offering clicker, trick, basics classes.  Soon I will be posting the class schedule, so

check back for offerings.  

webmaster:

Shelly Gordon

campsunhineweb@yahoo.com

WHAT'S GOING ON?
AT CAMP SUNSHINE
It is time for another round of orientation to classes held at Camp Sunshine. Upcoming classes in preparing for the CGC, teaching basic obedience and socializing a shy dog are some of the classes starting soon. New tricks and clicker classes have been added.
Just added Puppy Class!!!
Call Terri or drop her an email.
*******************************************************
OUT AND ABOUT
Terri is available to do CGC evaluations. Terri Sajdera RVT, CPDT-KA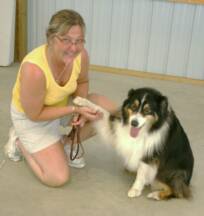 Dog Training Northwest Indiana
Terri Sajdera